Download BPOSG – BPO Standards and Guidelines

To view BPOSG, (left) click the below link. To download BPOSG, please right-click on this link (mobile/tablet) press & hold to download: Download BPOSG V5
Input and Suggestions
Input and suggestions are encouraged and welcome. To provide recommendations, please send an e-mail to BSB@NABPOP.org
BPOSG are copyrighted documents but can be distributed and utilized to the broadest extent.
BPOSG – Broker Price Opinion Standards and Guidelines is a compilation of standards and best practices for BPO practitioners – real estate agents and brokers. A Broker Price Opinion (BPO) is a report prepared by a real estate agent or broker that details the probable selling price of a house or property. The standards and guidelines in BPOSG are utilized to determine the probable selling price of residential real estate properties. Consider BPOSG as a set of quality control measures that adhere to the fundamentals, techniques, procedures, and best practices for real estate price evaluations.
The standards portion dictates what a BPO practitioner must do, such as ethics and conduct, disclosures, proper application of techniques, etc. Guidelines are best practices and procedures that are widely accepted yet allow for flexibility in application. The guidelines contained in BPOSG allow for flexibility to meet a diversity of requirements needed throughout the valuation industry.
NABPOP integrates BPOSG into a BPO Certification process. NABPOP grants a certification and designation based on knowledge and application of BPOSG and related real estate pricing and valuation techniques, processes, and procedures.
The current version of BPOSG is Version 5.0 as of March 2022. BPOSG is a living document and will evolve as the BPO industry evolves.
BSB BPO Standards Board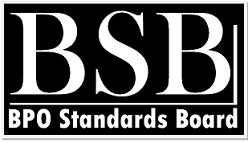 The BSB – BPO Standards Board – derives and maintains BPOSG. The BSB comprises subject matter experts throughout the BPO and valuation industry and is facilitated by the National Association of BPO Professionals – NABPOP. The companies involved with the BSB are competitors who have come together to better the industry. The selfless dedication of the volunteers who participate in the BSB indicates the high caliber nature of the BPO industry. The BSB derives, reviews, updates, and maintains BPO standards.