BPO Course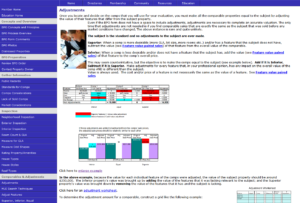 NABPOP has the most complete BPO education that you will find. Become an expert in doing BPOs and evaluating properties. Sharpen your home pricing skills. The expertise you acquire from the BPO Education section and Certification process will enhance your Real Estate business. The skills and requirements for performing accurate BPOs are the skills and practices that make great Real Estate Professionals.
Performing BPOs with proper training will lead to higher-quality and accurate BPOs. Performing accurate and efficient BPOs creates a quality professional who is more proficient and timely in their performance. High-quality BPOs save the BPO Companies time and gains a higher reputation with their bank alliances.
NABPOP BPO Training and Education is the best and most comprehensive in the industry. The BPO Education is dynamic to meet the requirements of the valuation industry. NABPOP receives input from valuation providers (BPO and REO companies), QC departments, Vendor Managers, reviewers, and chief appraisers. NABPOP also elicits feedback from experienced and top-rated BPO practitioner members. BPO advisory board is comprised of educators and highly experienced BPO practitioners. The BPO Education section has evolved and will continue to grow to meet the dynamic needs of the valuation industry.
NABPOP strives to make the most comprehensive and relevant BPO Education possible. NABPOP has fully integrated the BPO Standards and Guidelines (BPOSG click here for more details) into the BPO Education Section and the BPO Certification Test.
NABPOP has Certified Distance Education Instructors (CDEI) Accredited by the International Distance Education Center.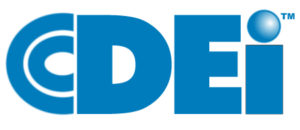 BPO Course Details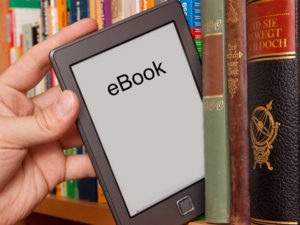 The BPO Course is available to members online or as a downloadable and printable E-book. NABPOP members can access the BPO Education at any time. The BPO Course is self-paced as a series of illustrated pages with no deadlines or time frames. The BPO Course takes approximately 6 hours to complete for planning purposes. The BPO Course is available to members immediately upon enrollment at no additional cost.
The BPO Course is a component of NABPOP's BPO Certification process. The BPO Course is everything a member needs to pass the BPO Certification Test. At the end of every certification test, members are presented with feedback and review with specific references to the BPO Course. Members use the feedback to review educational material and further study to improve their BPO Certification Test scores.
NABPOP BPO Course

include (but are not limited to):

BPOSG – BPO Standards and Guidelines
BPO and Valuation Concepts & Principles
BPO Preparation
Techniques to review BPO Orders – Do's and Don'ts
Gather Information & Property Inspection
Market evaluation
Distressed Properties

REO
Foreclosures
Short Sales

Sources of Information analysis

Public Records
MLS techniques

Property Owner protocols
Photo Requirements & Techniques
Accurate Amenity Valuation

Analysis techniques
Paired Sales Analysis

Inspections:

Neighborhood Inspection
Exterior Property Inspection
Interior Inspection

Gross Living Area evaluation
Room Count & GLA
Rating a Property & Amenities
House Types & Photo Examples
House Styles & Photo Examples
Roof Types & Photo Examples
Comparable Evaluation

Superior, Inferior & Equal Comps
Comparable Standards and Guidelines
Lack of Comparables

Adjustments

Adjust for Features & Amenities
Time Adjustments
Determine Feature Value & Paired Sales Analysis

Determine Accurate Appreciation & Depreciation rates
Application of Appreciation or Depreciation rate
Develop final Price Opinion & Submission
Reconciliation Process
Land Value
BPO Forms – Common Fields
Property & Amenity Ratings
Practical Exercises

Adjustments
Determine Appreciation & Depreciation
Paired Sales Analysis
Superior, Inferior, Equal
Calculations

Percentage Change
Annual Appreciation/Depreciation
Adjustments
BPO Certification Testing
Certifying an industry's professionals is an integral part of any skilled industry.
The Real Estate industry and the BPO industry are certainly skilled professional industries with the need for certifications. NABPOP Members distinguish themselves and increase their BPO credibility by obtaining a BPO Certification from NABPOP. Active BPO-certified members of NABPOP receive the C-REPS designation (Certified Real Estate Pricing Specialist).
The NABPOP BPO Certification and C-REPS designation are recognized throughout the BPO Industry. Many BPO/REO Companies give extra consideration to certified BPO vendors.
BPO Certification Test Details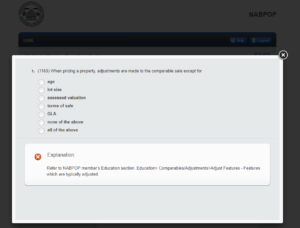 The BPO Certification Testing is taken online and is available at any time on the member's profile (BPO Course completion is not required but is highly recommended). The test is available within 24 hours of signing up as a member. A score of 80% is required to pass the Primary Certification Test (PCT). The test is available to members at no additional cost. There is no limit to the number of tests a member can take.
The certification process is designed to encourage ongoing improvement. Unlike most certifications (simple pass or fail), the member's score matters. The higher a member scores, the higher they can appear in Directory Searches (PCT score is a significant portion of the sorting criteria). BPO/REO Companies also give more consideration to higher scores, encouraging members to continue to improve their certification test scores.
Although the BPO Certification does not expire, NABPOP members are encouraged to maintain their BPO Certification annually by taking a summary certification test (Current Certification Test – CCT). A member's certification date is as of the date of their last passing certification test (either PCT or CCT).
After completion of any certification test (pass or fail), the member is presented with a feedback review of their performance on the test with reference materials to further their studies. The review references the specific sections in the BPO Course to review and study.
|   Log In |   Contact  |  Become Member  |     Search BPO Pros  |  Home  |